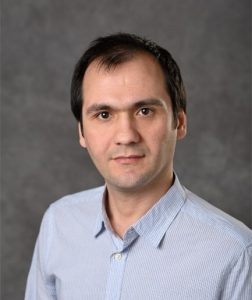 Polymer Engineer, Dr. Vahid Morovati will join the University of Connecticut this fall with a joint appointment in both the IMS Polymer Program and the department of Civil & Environmental Engineering. Dr. Morovati completed his first Ph.D. in Civil Engineering at the Sharif University of Technology, Tehran, Iran. In 2020, he received a dual Ph.D. in Civil Engineering-Structural Engineering and Mechanical Engineering-Solid Mechanics from Michigan State University.
Vahid is currently a Postdoctoral fellow in the Center for Mechanics of Solids, Structures and Materials and the Department of Aerospace Engineering and Engineering Mechanics at the University of Texas at Austin. His primary research interests lie in the multi-scale and micro-mechanical modeling of materials. As a part of his Ph.D. work, he developed a modular platform to study the nonlinear behavior of crosslinked elastomers. He is currently developing a computational framework to study the reliability of multi-layer thin films and the impacts of process-parameters on the mechanical properties of thin-film coatings. Vahid is also conducting research on the mechanics of multilayered van der Waals (vdW) materials to enhance their properties through strain engineering. He has published over 30 peer-reviewed journal papers and conference proceedings.
The Polymer Program faculty are excited to have Dr. Morovati as its newest member. His expertise in multi-scale modeling, the mechanical behavior of polymeric materials, and damage accumulation provides an excellent complement to the Program's current faculty, and will expand the variety, scope, and value of the Polymer Program's research.
---