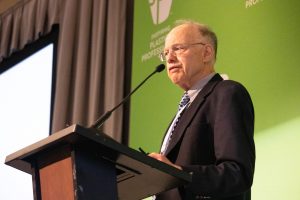 Polymer rheology expert, Montgomery (Monty) Shaw, was celebrated at the Society of Plastic Engineers (SPE) Annual Technical Conference and Exhibition (ANTEC) in Denver Colorado this past March. Over the past 30+ years, Dr. Shaw made vital contributions to polymer science and engineering that were shared in over 200 seminars and courses taught at the University of Connecticut. His books: Introduction to Polymer Rheology; Electrorheology; Water Treeing in Solid Dielectrics; and Introduction to Polymer Viscoelasticity have received citing by thousands of scientists and have been used in curriculums throughout the world. These books have been valued for both content and the method of communicating the ideas. His lifelong contributions to polymer science and engineering were celebrated at the daylong event. The symposium, organized by UConn's Prof. Luyi Sun and Prof. Emertus Robert Weiss, included 13 speakers from both industry and academia.
Dr. Shaw's began his career at Union Carbide Corp. before joining the University of Connecticut's Polymer Program as a Professor of Chemical Engineering in 1978. He also gained experience with two year-long sabbaticals at DuPont and Sandia National Laboratories. Dr. Shaw states that, "if you change your environment, you learn new things". This variety of experience helped him see various aspects of the field and recognize the importance of practical applications in academic research. His peers boast about the deep level of investigation Dr. Shaw made in all the details of rheology. This level of understanding sheds light on every step of the process, leaving nothing unseen.
During his more than 30 years as a UConn faculty member, Dr. Shaw was the major advisor of 44 students, helping develop the next generation of polymer scientists. Although he retired in 2009, Dr. Shaw continues to train and assist the students and faculty of the UConn IMS Polymer Program. He also served in leadership roles for the Society of Rheology. His positive attitude and love for science has made Dr. Shaw an integral leader of the Polymer community at the University of Connecticut and throughout the world.
Details of the symposium can be found at this LINK.