By Kelly A. Salzo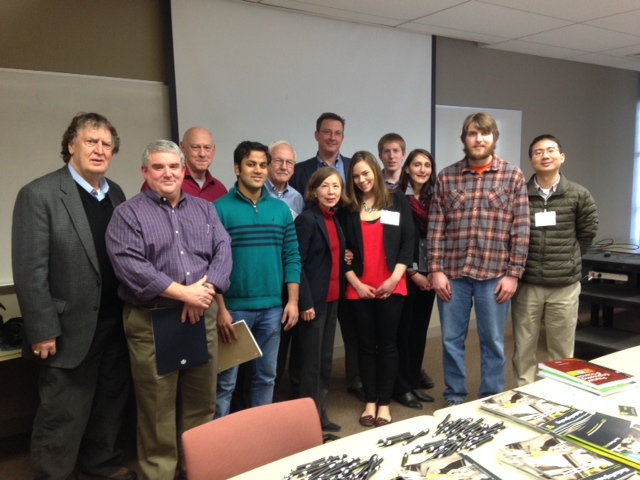 The Polymer Program and the UConn Society of Plastics Engineers student chapter co-sponsored the SPE CT section February meeting on Wednesday, February 18th, 2015. Three officers from the SPE CT section and four members of the SPE national office attended the meeting.
The Society of Plastics Engineers (SPE), an international organization dedicated to the advancement of knowledge and education for all plastics professions, organizes a monthly meeting to discuss recent developments within the organization. The UConn SPE chapter was selected to host the February meeting.
The meeting opened with a presentation by Mr. Russell Broome, the SPE Managing Director, entitled, "From a College Student to a Young Professional to an Industry Veteran" offering valuable advice to current students interested in a career in industry. Following the presentation a number of exciting announcements were made. First, the SPE Connecticut Section announced their plans to sponsor a student to attend the ANTEC and NPE national conference in Orlando, Florida, March 23rd through 25th. The SPE headquarters also expressed their intentions to partner with industry to sponsor students, eliminating the student membership fee. The current trial phase has seen student membership double over the past 6 months. Additionally, Russell Broome and SPE headquarters revealed their new networking and social media tool called the Chain. Inspired by LinkedIn, the Chain is an online forum divided into several communities including technical and social topics, and career connections with the goal to connect plastic professionals with an easy to navigate interface.
Around 40 students attended the meeting, interested in the opportunity to learn about new developments in the polymer and plastics industry in Connecticut and network with industry professionals on the SPE national board.
In addition to hosting the SPE February meeting the UConn student chapter has also organized various events and activities including tours of local plants in the industry and outreach programs increasing education in polymers from elementary school through high school. During the Polymer Program Seminar Series, SPE members volunteer by supervising equipment and setting up refreshments. Additionally, the organization arranges the SPE Student Seminar Series that invites field leaders, senior students and postdoctoral fellows from the Southern New England area to present on polymer related topics.
For more information on becoming a student member please contact the UConn SPE student president, Garrett Kraft.