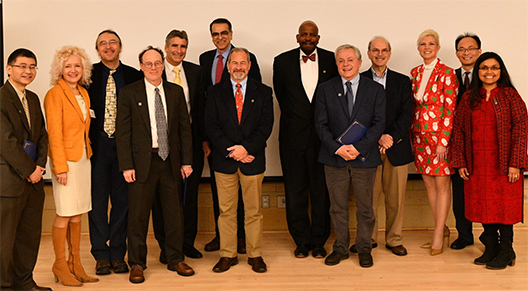 IMS Polymer Program faculty members, Dr. Alexandru Asandei and Dr. Richard Parnas, were inducted into the UConn Chapter of the National Association of Inventors (NAI) in December 2019. The UConn NAI chapter was established in 2017 as the first Connecticut chapter of the national organization which was formed in 2010. The goal of NAI is to recognize and encourage academic inventors, enhance the visibility of academic technology and innovation, encourage the disclosure of intellectual property, educate and mentor innovative students, and translate the inventions of its members to benefit society.
Dr. Richard Parnas — whose research pursuits include biofuels production and separations, renewable polymers and composites, and interface engineering — holds a patent for a novel membrane that can be used to make biodiesel production more profitable by aiding the conversion of glycerol to 1,3 propanediol, a valuable platform chemical.
In 2018, Dr. Parnas and Trumbull, CT-based REA Resource Recovery Systems partnered with UConn and the Greater New Haven Water Pollution Control Authority (GNHWPCA) to place a pilot-scale demonstration system at the East Shore Water Pollution Abatement Facility in New Haven to convert brown grease to biodiesel fuel. The type of biodiesel fuel produced through this partnership, called Brown FOG (fats, oils, grease) can be used for power generation, including to power vehicles.
In May of 2019, U.S. Congresswoman Rosa DeLauro (CT-03) and former New Haven Mayor Toni Harp visited the joint UCONN/GNHWPCA/REA project at the East Shore facility to celebrate the successful performance of the demonstration system and to kick off the effort to place a full-scale commercial system at several wastewater treatment plants in the state. Dr. Parnas has since partnered with the city of Danbury on a project to create a biodiesel production facility at that city's water treatment plant.
Dr. Alexandru Asandei's research interests include controlled radical polymerization, block copolymers, fluoropolymers, catalysis, biodegradable polymers, and organometallic chemistry. He holds several patents related to his research in polymer science and has served as an editorial board member for the Journal of Polymer Science: Part A: Polymer Chemistry since 2009. Dr. Asandei has served as co-organizer of the American Chemical Society (ACS) Workshop on Fluoropolymers in 2016, 2018, 2020.
In 2015, Dr. Asandei completed a month-long visiting professorship at Pôle Chimie Balard in Montpelier, France. Asandei was selected for the Chaire TOTAL program which includes a visiting professor/researcher component, an International School on Sustainable Chemistry and Energy initiative, and a scholarship program. As part of the program, Asandei presented four invited lectures. While in France, Professor Asandei also made invited presentations at the University of Toulouse and the University of Grenoble.  Dr. Asandei has been called upon to present his research at numerous conferences, universities, and industry organizations.
---