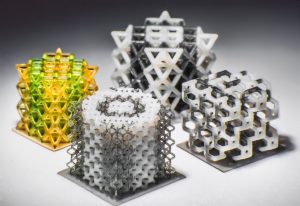 UConn, the University of Massachusetts Lowell (UMass Lowell), and Georgia Institute of Technology (Georgia Tech) announced a collaboration to establish SHAP3D, a National Science Foundation (NSF) Industry-University Cooperative Research Center (IUCRC), to address emerging challenges of additive manufacturing, also commonly referred to as 3D printing.
IUCRCs bridge the gap between early academic research and commercial readiness, supporting use-inspired research leading to new knowledge, technological capabilities and downstream commercial applications of these technologies.
"This Center will address the grand challenges that prevent the entire 3D printing field from moving forward," says Joey Mead, Distinguished University Professor and David and Frances Pernick Nanotechnology Professor in the Department of Plastics Engineering at UMass Lowell. Mead serves as the center director of the Center for Science of Heterogeneous Additive Printing of 3D Materials (SHAP3D).  Read the full UConn Today Story.
---